InsideStorytime SUBLIMATION, featuring Kim Magowan (Undoing), Anita Felicelli (Love Songs for a Lost Continent), Thea Matthews, Ant Fraser Fujinaga, and Albert Alexander, will be at Laundry Gallery and Cafe, 3359 26th Street, San Francisco, Thursday February 7th, 7-9 pm.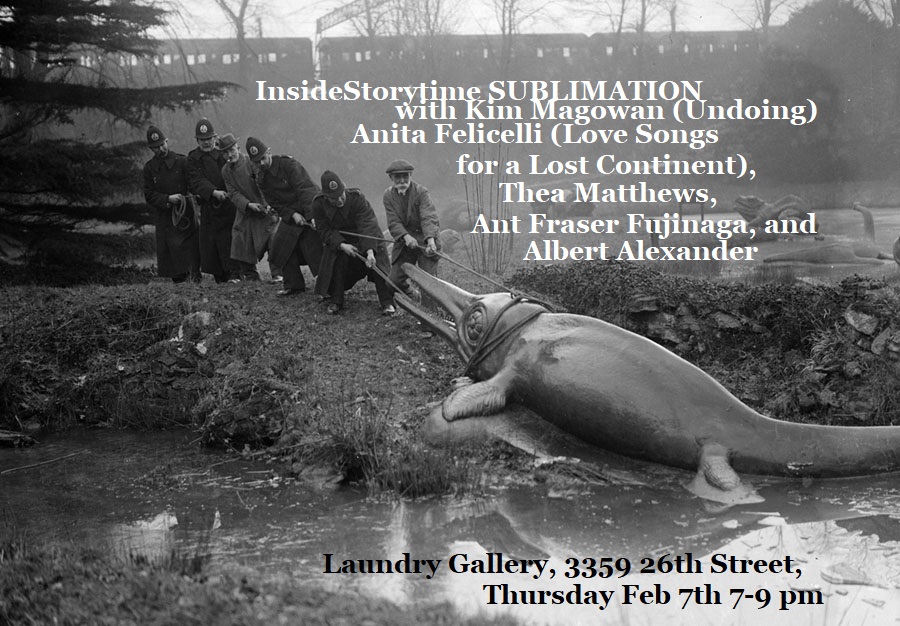 Coming up: InsideStorytime CLOSURE, featuring Tongo Eisen-Martin (Heaven Is All Goodbyes), Anne-christine d'Adesky (The Pox Lover), Jenn Stroud Rossman (The Place You're Supposed to Laugh), and others, will be at Octopus Literary Salon, 2101 Webster Street, Oakland, Thursday March 21st, 7-9 pm.
April's InsideStorytime, featuring Antony Fangary (Haram) and others, will be at Cinnabar, 397 Ellis Street, San Francisco, Thursday April 11th, 7-9 pm.
May's InsideStorytime, featuring Cheryl Ossola (The Wild Impossibility) and others, will be at Octopus Literary Salon, 2101 Webster Street, Oakland, Thursday May 16th, 7-9 pm.
Past InsideStorytimes have featured Mikkel Aaland, Makram Abu-Shakra, Marta Acosta, Fisayo Adeyeye, Faith Adiele, Zubair Ahmed, Rabih Alameddine, Youssef Alaoui, Daniel Alarcón, Luciano Aldana, Nic Alea, Michael Alenyikov, Indira Allegra, Skye Allen, Steve Almond, Andrew Altschul, Dinika Amaral, Anita Amirrezvani, Charlie Jane Anders, Jen Burke Anderson, Jodi Angel, Tamim Ansary, Cyrus Armajani, Louise Aronson, Ishita Arora, Faruk Ates, Jaynel Attolini, Nancy Au, Wagner James Au, Josef Aukee, Sona Avakian, W. Ross Ayers, judy b., Natalie Baszile, Jason Bayani, Stephen Beachy, Peter Beagle, Sean Beaudoin, Lauren Becker, Andres Bella, Aimee Bender, Larry Beresford, David Berkeley, Amy Berkowitz, Holger Berndt, Elizabeth Bernstein, Chaim Bertman, Terry Bisson, Jenny Bitner, Karen Bjorneby, Alan Black, Ben Black, Cara Black, Steven Black, Lucy Bledsoe, Ryan Blitstein, Jennifer Blowdryer, Will Boast, Michael Boehm, Jon Boilard, David Booth, Paulette Boudreaux, Jack Boulware, Heather Bourbeau, Melodie Bowsher, Nora Boxer, Catherine Brady, Emily Brady, Val Brelinski, Rob Brezsny, Kiara Brinkman, Delina P. Brooks, Guy Benjamin Brookshire, Darrend Brown, Eli Brown, Holly Brown, S.G. Browne, Murray Brozinsky, Judy Budnitz, Robin Bullard, Peter Bullen, Rita Bullwinkel, Robin Burcell, Robert Burton, Colby Buzzell, Goodloe Byron, Cyndi Cady, James Cagney, Bob Calhoun, Aneesha Capur, Chris Carlsson, Novella Carpenter, Nona Caspers, Marty Castleberg, Joe Cervelin, Christy Chan, Ravi Chandra, Angie Chau, Rajshree Chauhan, M. K. Chavez, Traci Chee, Jimmy Chen, Kirstin Chen, Amrit Chima, Justin Chin, M. Christian, Greta Christina, Jorge Cino, Belo Cipriani, Melissa Cistaro, Peter Clarke, David Ira Cleary, Craig Clevenger, Joe Clifford, Amanda Coggin, Mark Coggins, Chris Cole, Michael Collins, Christine Comaford-Lynch, Sean Patrick Conlon, Ingrid Rojas Contreras, Carolyn Cooke, David Corbett, Doug Cordell, Lucy Corin, Paul Corman-Roberts, Elizabeth Costello, Kitty Costello, Elwin Cotman, Les Cowan, Timothy Crandle, Sean Craven, Mojie Crigler, Eanlai Cronin, Katie Crouch, Ann Cummins, Chris Cutter, Rohan DaCosta, Blag Dahlia, Cassandra Dallett, Jasmin Darznik, Rob Davidson, Joshua Davis, Patricia Volonakis Davis, Lucille Lang Day, Geeta Dayal, Matthew James DeCoster, Albert Flynn DeSilver, Nick Denney, Natalie Devora, Catie Disabato, Michael Disend, Karinda Dobbins, Melissa Dodd, Jim Dodge, Alex Dolan, Laurie Ann Doyle, Andrea Drugay, Kevin Dublin, Jennifer duBois, Andrew Dugas, Darothy Durkac, Tony DuShane, Helena Echlin, Robin Ekiss, Meg Elison, Chiyuma Elliott, Stephen Elliott, Lyndsey Ellis, Cindy Emch, Ammi Emergency, Maria Espinosa, Shideh Etaat, Ali Eteraz, Nahid Fattahi, Grant Faulkner, Paul Festa, Anne Finger, Eliot Fintushel, Valerie Fioravanti, Rodes Fishburne, Kristin FitzPatrick, Tim Floreen, Sandy Florian, Luiza Flynn-Goodlett, Kate Folk, Tammy Fortin, Lee Foust, Heather Fowler, Thaisa Frank, Laura Fraser, Soma Mei Sheng Frazier, Jason K. Friedman, Jake Fuchs, Michelle Gagnon, Sarah Gailey, Lisa Galloway, Ruth Galm, Jane Ganahl, Jesus Angel Garcia, Edward Gauvin, Ann Gelder, Julie Gengo, Anne Germanacos, Charlie Getter, Tanya Egan Gibson, Molly Giles, Kim Gill, David Gleeson, John Goins, Lael Gold, Gravity Goldberg, Stan Goldberg, Kathi Kamen Goldmark, Cynthia Gómez, Sam Gong, Eric D. Goodman, Wayne Goodman, Cassandra Gorgeous, Yanina Gotsulsky, Daphne Gottlieb, Julie Graham, Genie Gratto, Lisa D. Gray, Daryl Gregory, Graham Gremore, Austin Grossman, Patrick Guderski, Stephen Gutierrez, Tracy Guzeman, Saeeda Hafiz, Carrie Hall, Tissa Hami, Daniel Handler, Susie Hara, Hollie Hardy, Terry Sue Harms, Stephanie Harrell, Laird Harrison, Seth Harwood, Daniel Heath, Cameron Heffernan, Paula Hendricks, Rose Heredia, Luke Heyerman, Skip Horack, Rachel Howard, Vanessa Hua, Yang Huang, Elise Hunter, Alta Ifland, Matthew Iribarne, Zoltan Istvan, Alex Ivey, Noria Jablonski, Julia Jackson, Sherril Jaffe, Ayize Jama-Everett, Nazelah Jamison, Emily Jiang, Manuel Jimenez, Laura Joakimson, Adam Johnson, Maisha Z Johnson, Nick Johnson, Justin Jones, Jennifer Zeynab Joukhadar, Judy Juanita, Simi Singh Juneja, Richard Kadrey, Vylar Kaftan, Yuri Kagan, Konstantin Kakaes, Juba Kalamka, S. K. Kalsi, Dietrich Kalteis, Rahul Kanakia, Persis Karim, Evan Karp, Alan Kaufman, Tim Kay, Jonathon Keats, Vernon Keeve III, Ammi Keller, Kim Wong Keltner, Stephen Kessler, Laleh Khadivi, Kirin Khan, Emily Kiernan, Stefan Kiesbye, Junse Kim, Sean Kim, Taelur Kim, Jeff Kirschner, Ellen Klages, Elizabeth Koch, Lee Konstantinou, Alexandra Kostoulas, Janine Kovac, Charles Kruger, Stephanie Kuehnert, Dhaya Lakshminarayanan, Andrew Lam, Dickson Lam, Scott Lambridis, Allison Landa, Scott Landers, Joel Landmine, Alice LaPlante, Carmen Lau, Gallagher Lawson, Jennifer Lee, Frances Lefkowitz, Genine Lentine, Raina León, Scott Lettieri, Daniel LeVesque, Richard Michael Levine, Robin Coste Lewis, Yiyun Li, D.W. Lichtenberg, Ali Liebegott, Annie Lin, Ho Lin, Jessica May Lin, Paul Linde, Beth Lisick, Sophie Littlefield, Sybil Lockhart, Michael Bernard Loggins, Juliana Delgado Lopera, Richard Loranger, Regina Louise, Cesar Love, Li Miao Lovett, Alvin Lu, Jacqueline Luckett, Michael David Lukas, Ericka Lutz, Erick Lyle, Kathryn Ma, J. D. Mader, Ivory Madison, Shana Mahaffey, Erika Mailman, Tim Maleeny, Nick Mamatas, Adam Mansbach, Anna Mantzaris, Sarah Ladipo Manyika, Sean Labrador y Manzano, Micheline Aharonian Marcom, Sara Marinelli, Anne Marino, Ira Marlowe, Anthony Marra, M.C. Mars, Chelsea Martin, Emer Martin, Kurt Wallace Martin, R. J. Martin, Roy Mash, Saqib Mausoof, Richard May, Sharon May, Ethel Mays, Michael McAllister, Seanan McGuire, Colleen McKee, Rob McLaughlin, Patricia Ann McNair, Margarita Meklina, Miranda F. Mellis, Lindsay Merbaum, Wendy Merrill, Andrea Carla Michaels, Ethan Michaels, Allison Mick, Midori, Elise Frances Miller, Lydia Millet, Kate Milliken, Emily Mitchell, Marie Mutsuki Mockett, Joshua Mohr, Hyla Molander, Tomas Moniz, Veronica Montes, Nancy Jane Moore, Alex Moran, Courtney Moreno, Diana Morgaine, Morgan, Kate Moses, Eddie Muller, Nayomi Munaweera, Roman Muradov, Garrett Murphy, Aífe Murray, Caitlin Myer, Alexandra Naughton, Louise Nayer, Ebede Ndi, Annalee Newitz, Janis Cooke Newman, Mitzi Ngim, Bich Minh Nguyen, Nicholas Nicastro, Maria Nieto, Jim Nisbet, Cornelia Nixon, Christine No, Monica Nolan, Zahra Noorbakhsh, Mary Van Note, Juliet November, Kaya Oakes, Dawn Oberg, Alan O'Gorman, Colm Ó'Riain, Alvin Orloff, Peter Orner, Wendy C. Ortiz, Phyllis Oscar, Lori Ostlund, Angelica Oung, Joe Pachinko, Marian Palaia, Ralph Paone, John Panzer, Apollo Papafrangou, Beverly Parayno, Lauren Parker, Shahrnush Parsipur, Fyza Parviz, Andrea Passwater, Raj Patel, Sunil Patel, Holly Payne, Hank Pellissier, Karen Penley, Micah Perks, Colette Phair, Aimee Phan, Whitney Phaneuf, Dominica Phetteplace, Alex Fokas, Matt Pine, Roger Pinnell, Ploi Pirapokin, Tom Pitts, Angela Pneuman, Meg Pokrass, Frank Portman, Tim Pratt, Tony Acarasiddhi Press, Mark Pritchard, Peg Alford Pursell, Carol Queen, Bridget Quinn, Joe Quirk, Anne Raeff, Shobha Rao, Andy Raskin, Jon Raymond, Kirk Read, Ishmael Reed, Tanya Rey, Simon Rich, Michelle Richmond, Suzanne Rivecca, Jenesha de Rivera, Jason Roberts, Scott Roberts, Linda Robertson, Christina Robinson, Kim Stanley Robinson, Tony Robles, Karisma Rodriguez, Tony R. Rodriguez, Simon Rogghe, Ethel Rohan, F. S. Rosa, Jarret Rosenblatt, Elizabeth Rosner, Kate Rossikhina, Roshni Rustomji-Kerns, Mindela Ruby, Joshua Safran, Brynn Saito, Eryk Salvaggio, Vanitha Sankaran, Rachel Sarah, Mark Sarvas, Sumiko Saulson, Ron Saxen, Nina Schuyler, Jon Sindell, Darieck Scott, Kemble Scott, Anna Sears, Effie Seiberg, Lori Selke, Shanthi Sekaran, Mahbod Seraji, Karlan Shaddox, Janice Shapiro, Justine Sharrock, R. L. Shattuck, Susan Shea, Michael Sheahan, Moazzam Sheikh, Simon Sheppard, John Shirley, Laura Shumaker, Holly Shumas, Benjamin Bac Sierra, Julia Flynn Siler, Sylvie Simmons, Ross Simonini, April Sinclair, Jon Sindell, Jesse Singer, Ian Singleton, Bucky Sinister, Jen Siriganian, Gordy Slack, Caroline Smadja, Adam Smyer, Sharon Sobotta, K. M. Soehnlein, Kaitlin Solimine, Susanna Solomon, Jennifer Solow, John Somerville, Mary Stein, Susan Steinberg, Ransom Stephens, David Henry Sterry, Matt Stewart, SB Stokes, Joel Streicker, Natalya Sukhonos, Tatyana Sundeyeva, Christina Sunley, Shruti Swamy, Teck Sway-Bien, Matt Bernstein Sycamore a.k.a. Mattilda, Anca Szilágyi, Eddie Tafoya, Sean Taylor, William Taylor Jr., Michelle Tea, Cary Tennis, Lysley Tenorio, Andrew J. Thomas, Meghan Thornton, Peter Tieryas, Na'amen Tilahun, Graham Todd, Max Tomlinson, Tarin Towers, Thy Tran, Claire Tristram, Gary Turchin, Cameron Tuttle, Ian Tuttle, Ezekiel Tyrus, Leah Umansky, Neil Uzzell, Juan Alvarado Valdivia, Aimee Valentine, Melissa Valentine, Jane Vandenburgh, Vauhini Vara, Dorinda Vassigh, Lila Vasudevan, Judy Viertel, Marianne Villanueva, Alia Volz, Siamak Vossoughi, Benjamin Wachs, Ayelet Waldman, Townsend Walker, Genanne Walsh, Annie Wang, Jeff Van Ward, Meghan Ward, Malena Watrous, Ken Weaver, Helene Wecker, Emily Meg Weinstein, Diane Weipert, Jillian Weise, Ruth Whippman, Arisa White, Barry Willdorf, James Williams, September Williams, Josh Wilson, Maw Shein Win, Colin Winnette, Cliff Winnig, Lolly Winston, Rebecca Winterer, Sarah Fran Wisby, Ali Wong, Kenneth Wong, Zach Wyner, Karen Tei Yamashita, Kenton K. Yee, John Yi, Variny Yim, Mariah K. Young, Sarah "Dollface" Young, Chun Yu, Zarina Zabrisky, Michelle Zaffino, Edmund Zagorin, Katayoon Zandvakili, Matthew Zapruder, Norman Antonio Zelaya, Olga Zilberbourg, Salvatore Zoida, and Todd Zuniga.